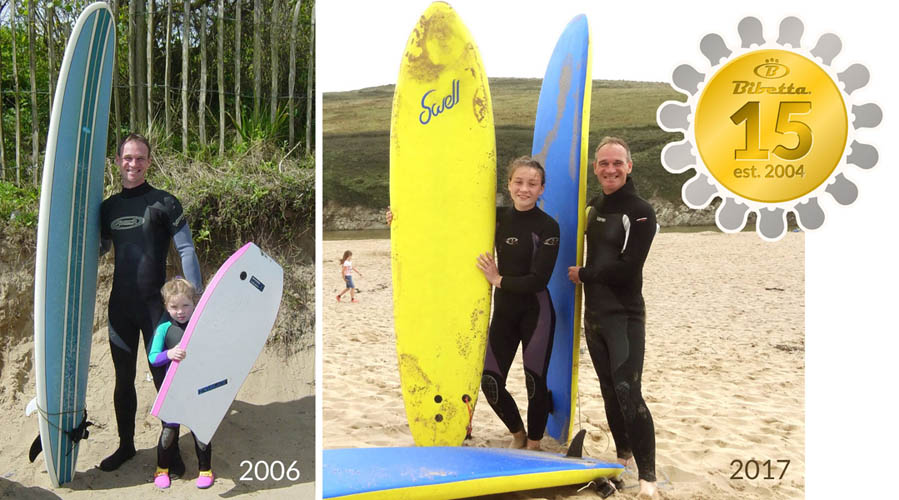 Our Story
Here at Bibetta we design and manufacture a range of smart, innovative and practical products to help make everyday family life fun and relaxing. We use a range of technical fabrics and clever little design ideas to create products that give you all the features you are looking for, such as the best comfort, style, waterproofing, easy cleaning and durability.

The idea for Bibetta was born when a love of surfing bumped into family life. Bibetta's founder, Paul Brown, a product designer, dad and keen surfer, tried many different types of bibs on their baby daughter but soon realised that none were ideal; whereas his wetsuit material, neoprene, would provide the perfect solution. Neoprene is ideal as it is naturally waterproof, stretchy, has a soft, friendly feel, is almost stain-proof and is tough and durable; the perfect material for bibs!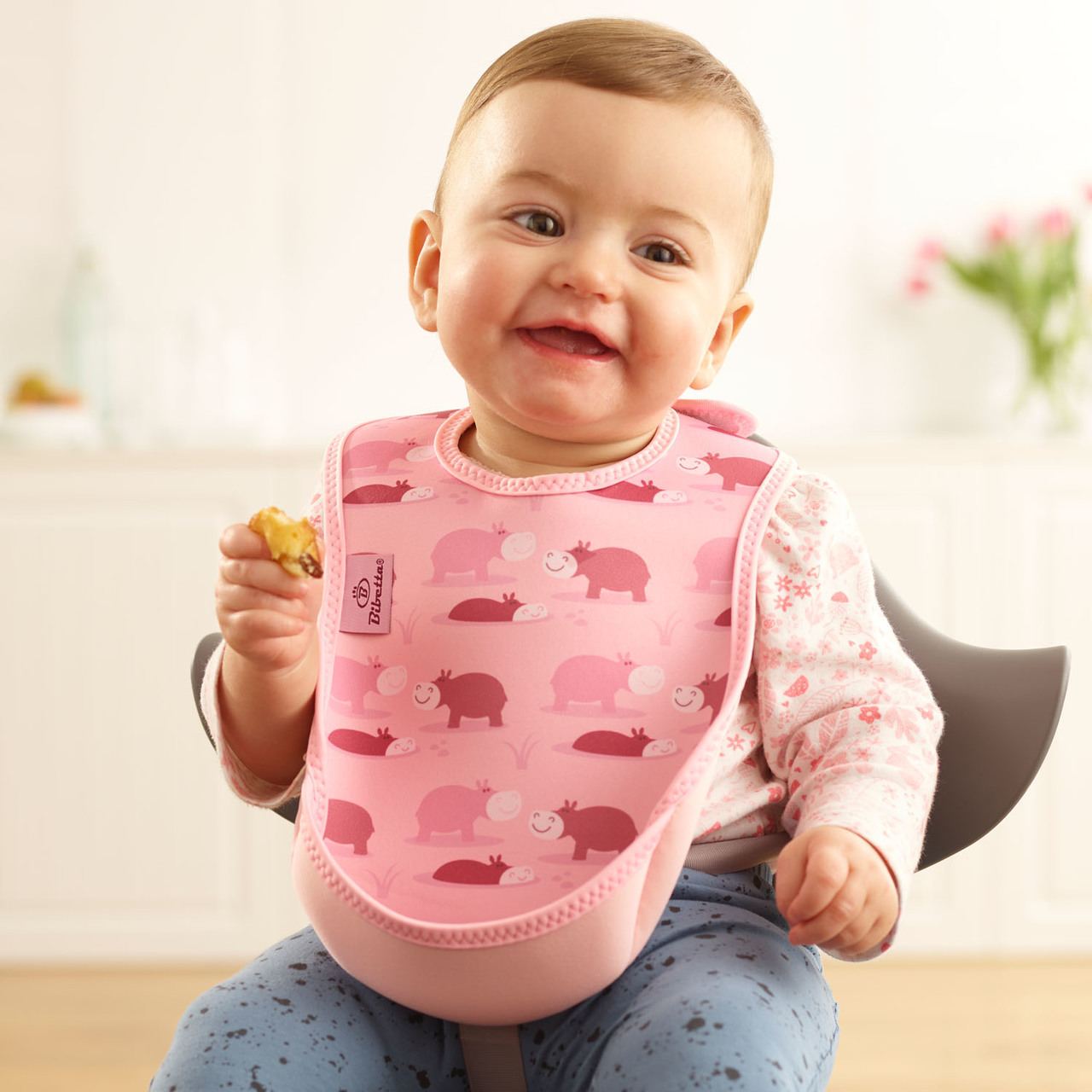 Ultrabib
Paul went on to design the Ultrabib's curvy ergonomic shape and created everyone's favourite feature, the unique, springy, flip-out pocket that children love. Twelve months of daily testing, machine-washing and tumble drying in a local nursery proved the new bibs to be virtually indestructible and nicely easy to clean too.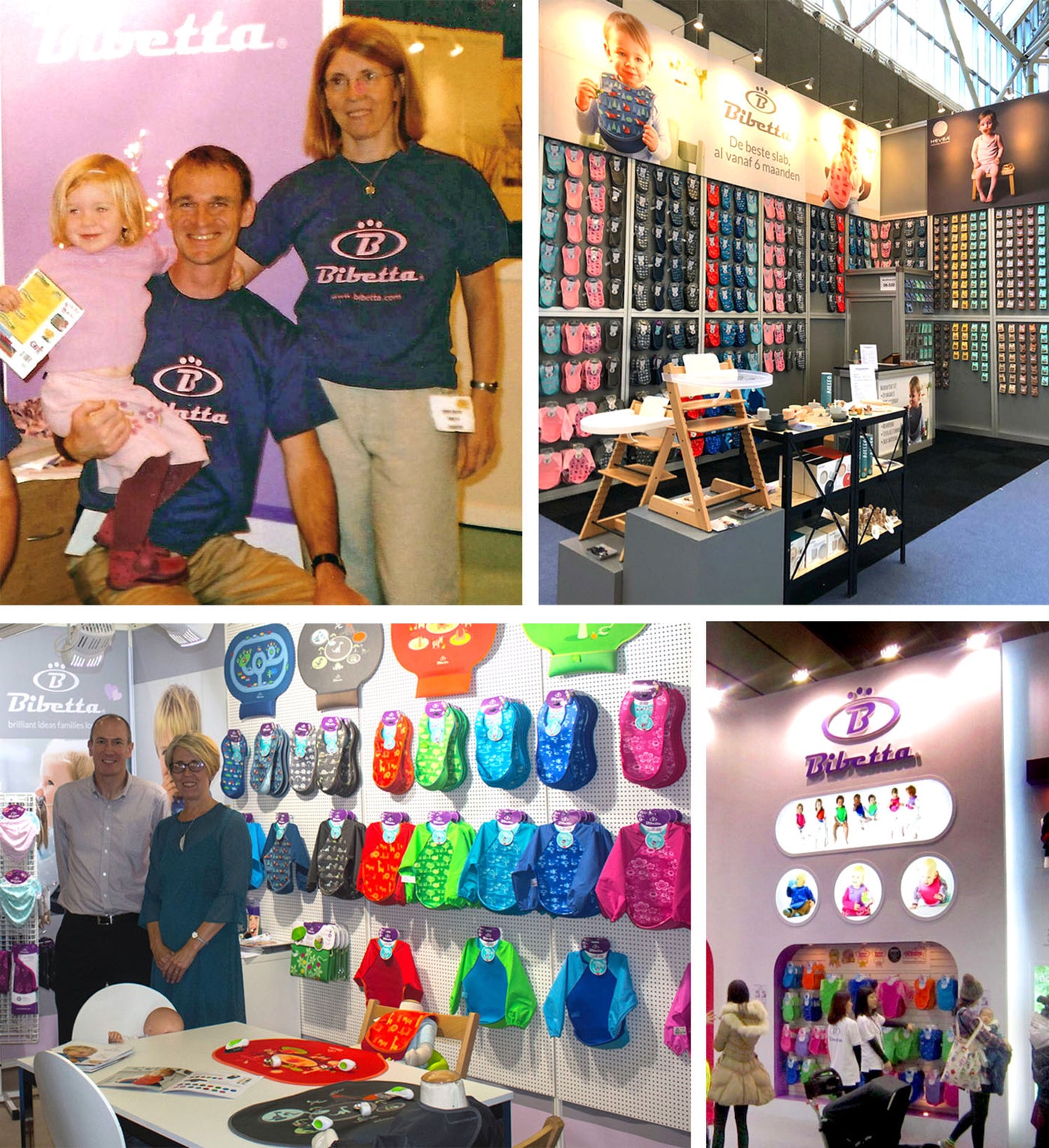 Bibetta (meaning 'a bib which is better' with an Italian twist!) was founded in 2004, our innovative neoprene UltraBib™ was patented and the revolutionary new bib range launched at The Baby Show at the NEC, Birmingham, to great interest by retailers, immediately being selected by the leading baby retailer, Mothercare, to our delight. A string of top awards soon followed and we knew we had created the perfect bib to offer parents worldwide a great, modern and refreshing alternative to those traditional types.
In 2005 we proudly launched our Care Designs brand to supply high quality clothing protectors with dignified styling for adults and teenagers who were struggling to find appropriate garments for mealtimes and all-day wearing.
Paul's wife, Fiona, later joined Bibetta to manage IT and logistics and the family company has steadily grown to supply our products from small independent shops to major UK high street retailers and further across the world via several international distributors as far as Japan.
We are still loving the great outdoors and still surfing, however our baby daughter has obviously grown a bit now! Bibetta is introducing new and unique designs all the time so look out for our other great solutions to everyday needs!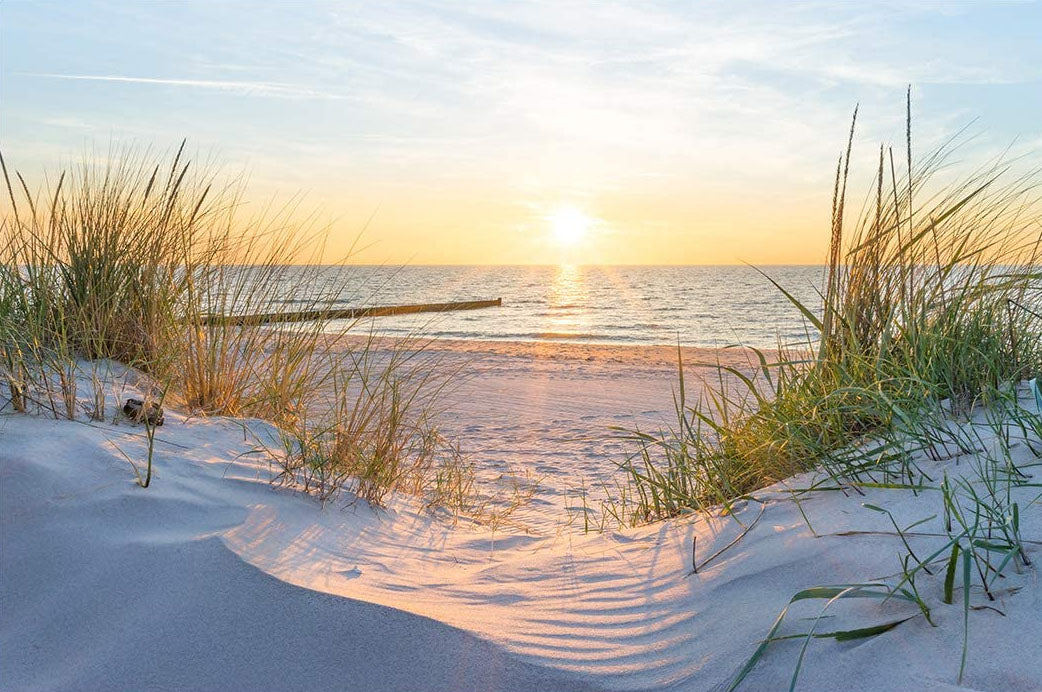 Our Products
Design & Sustainability
Bibetta designs all its products in Cambridge, England, mixing some clever little innovations with high performance fabrics and a splash of our cute and contemporary characters to give you a 'wow' factor whenever you use our products! We aim to give you the most comfortable, the easiest to use, the best performing, the most durable and best looking products available.
You can relax knowing that our products pass all relevant UK safety requirements and are BPA free, phthalate free, PVC free and AZO dye free.
As nature lovers we care deeply about protecting the environment in as many ways as possible. This responsibility is integral to our brand and so we use recycled polyester across all our products, our neoprene is biodegradable, our packaging uses recycled cardboard and uses all fully recyclable materials. In addition we use highly durable materials and design everything to last longer to maximise the usable life of the product to help both your pocket and the environment.
Our products are patented, registered and copyright designs.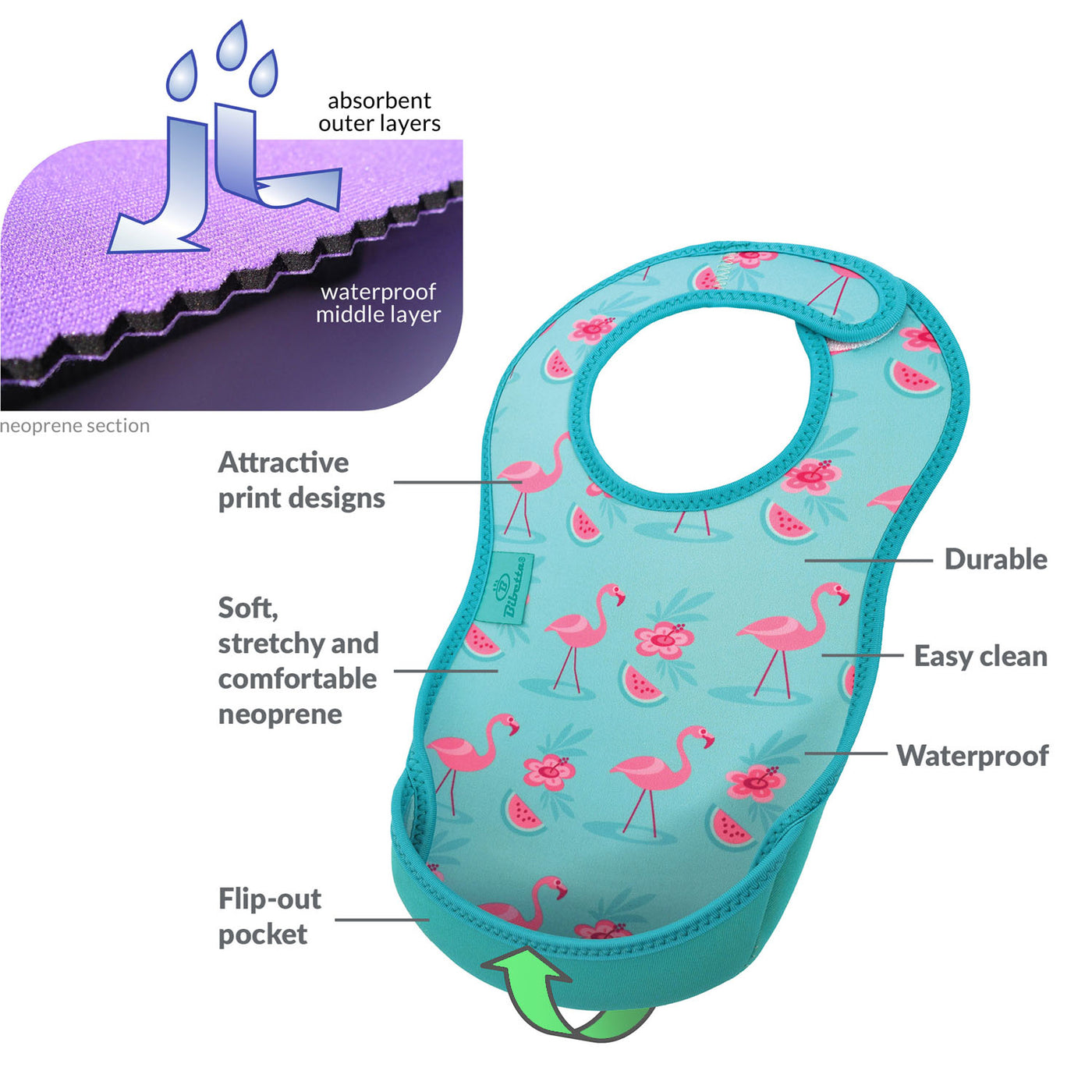 Our Products
Neoprene Products
Several of our products are made with neoprene, the same material as used for making wet suits. Neoprene has a fantastic, soft, stretchy, comfortable and friendly feel which children love.
With a soft, sponge rubber layer in the middle it's 100% waterproof for brilliant protection. The outside is covered in stretchy polyester which is easy to clean, absorbs liquid and is quick drying. Neoprene keeps its shape well, which works especially well for our famous flip-forward pocket, and lasts a long time giving you excellent long term value!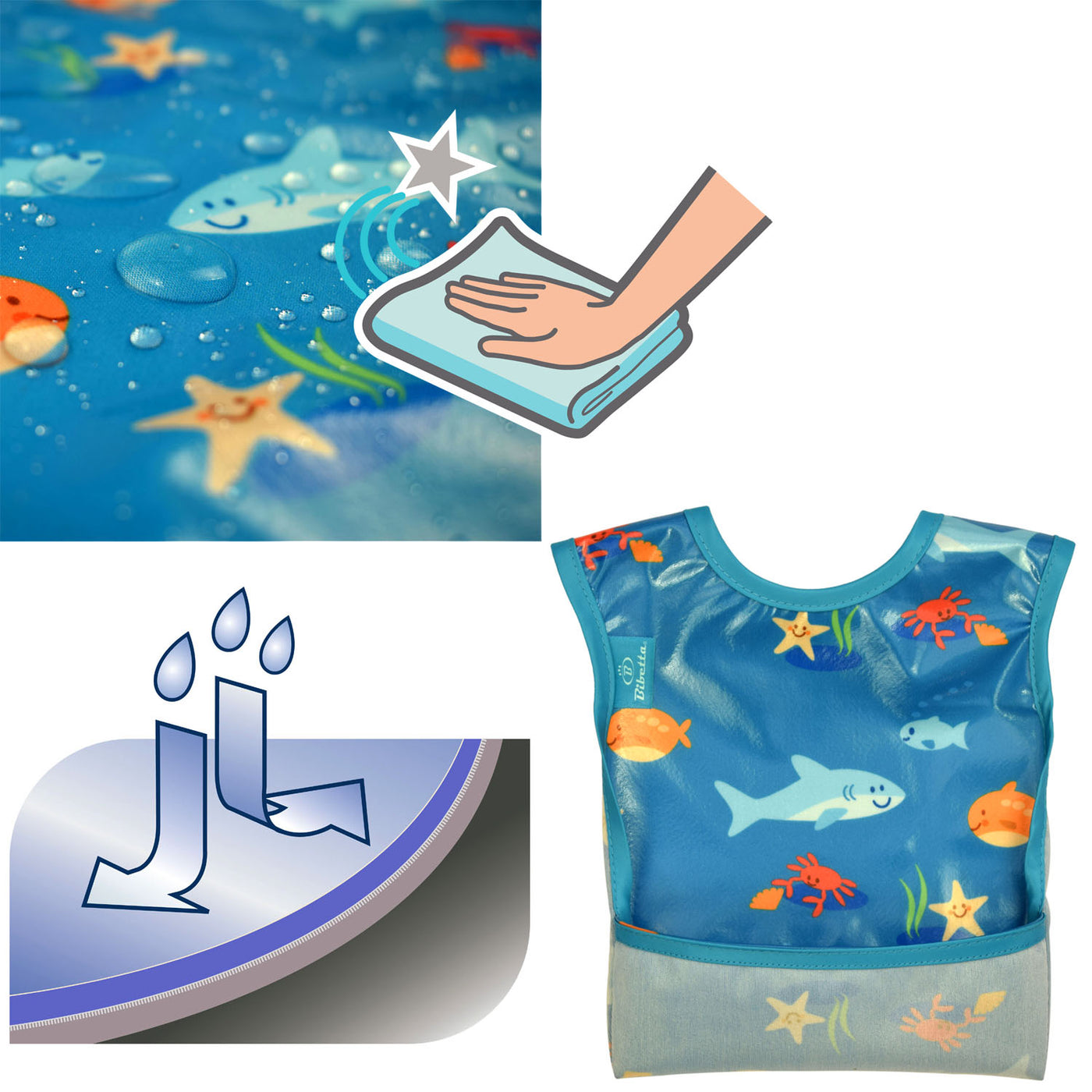 Our Products
Wipeezee products
Bibetta's Wipeezee® material was created exclusively by us to offer you the easiest cleaning and most stress-free mealtimes possible! It has a 100% smooth, shiny, stain-proof and wipe-cleanable polyurethane coating surface for a quick clean and better hygiene. The material has a polyester fabric backing for breathability, comfort and a lovely soft feel.
We have created a series of fun, food related characters to make mealtimes engaging and a giggle! New prints just arrived!
Life is easy with Wipeezee!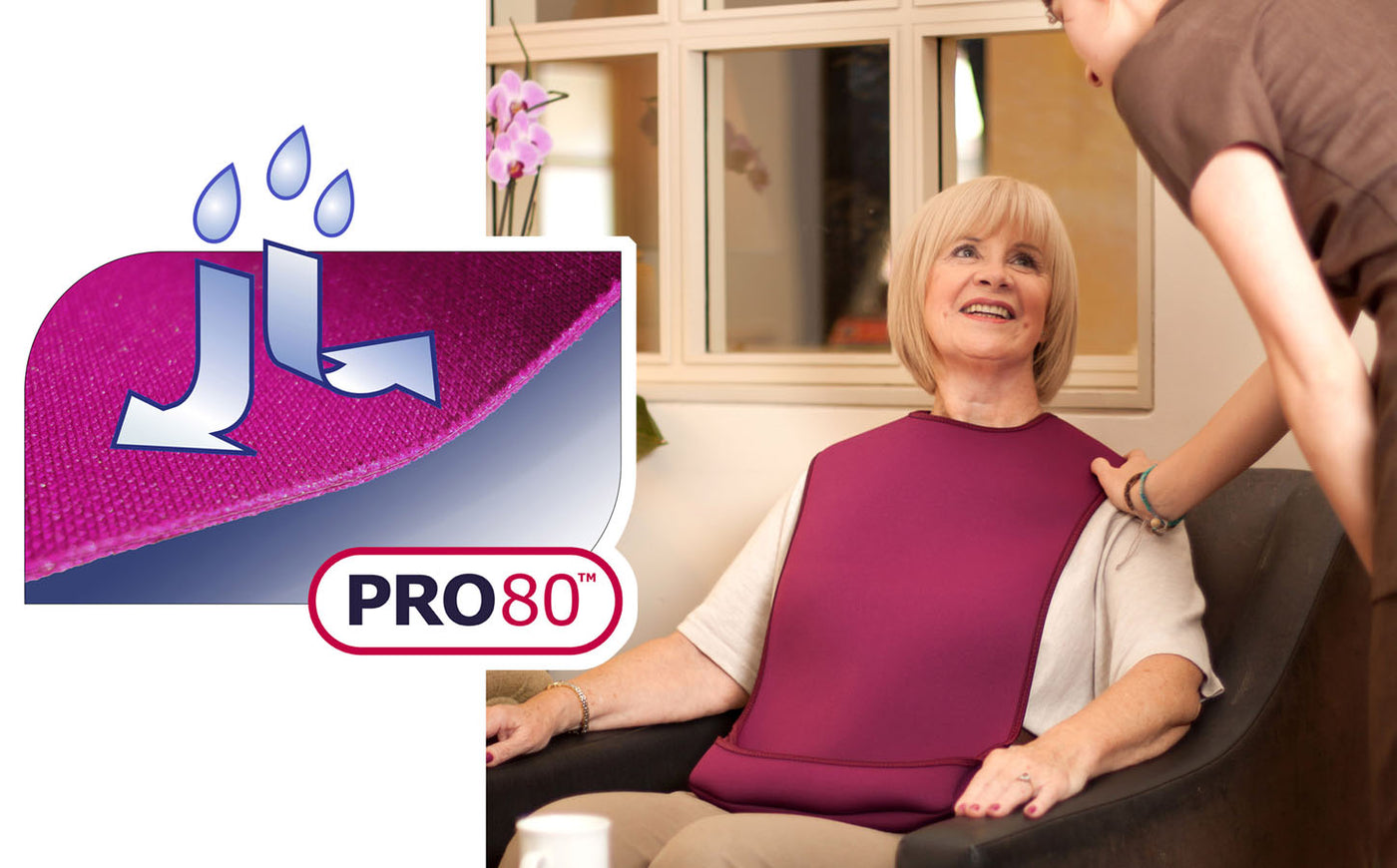 CARE DESIGNS
PRO80 professional grade
PRO80™ is our own, exclusive material designed for professional use in care homes and hospitals to be super durable and have a long life. It has a 100% waterproof middle barrier (excluding the sewn part of the pocket) bonded to thick polyester jersey outer layers making it absorbent, strong, virtually stain proof and wonderfully soft, flexible and comfortable to wear. The Adult Tabards made with PRO80 are machine washable at up 80°C. and tumble drier proof. The tabards will stay clean and smart looking much longer than traditional bibs and are very durable for added value.